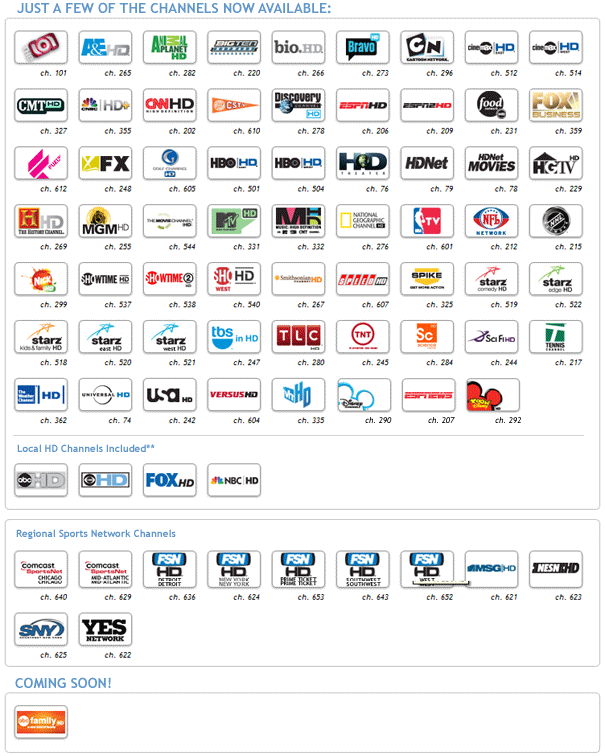 Over 90 HD Channels!

The "March to 100" continues at DIRECTV, and 27 new HD Channels have just debuted! ORDER NOW and you'll soon be watching more than 90 of your favorite channels in incredible HD!

DIRECTV NOW OFFERS MORE THAN 130 HD

HIGH DEFINITION CHANNELS.

DIRECTV HAS THE MOST HD CHANNELS AVAILABLE ANYWHERE!

DIRECTV has made a commitment to bringing you the best in HD High Definition Programming, that means more of the DIRECTV channels you want to see in HD than you'll find anywhere else. Favorites such as CNN HD, A&E HD, The History Channel HD, as well as premium channels like HBO HD, Cinemax HD, Showtime HD, and Starz HD have ALREADY LAUNCHED, and that's just the tip of the iceburg. Now you can watch 130+ of the channels you really want in breathtaking HD, Only on DIRECTV!†

In addition to all the best in national HD programming, DIRECTV brings you more HD sports than any other cable or satellite provider*, including OVER 230 NFL Games each season in amazing HD-quality*. AND, for state-of-the-art HD and HD DVR receivers, no one beats DIRECTV in bringing you the BEST and EASIEST TV experience.